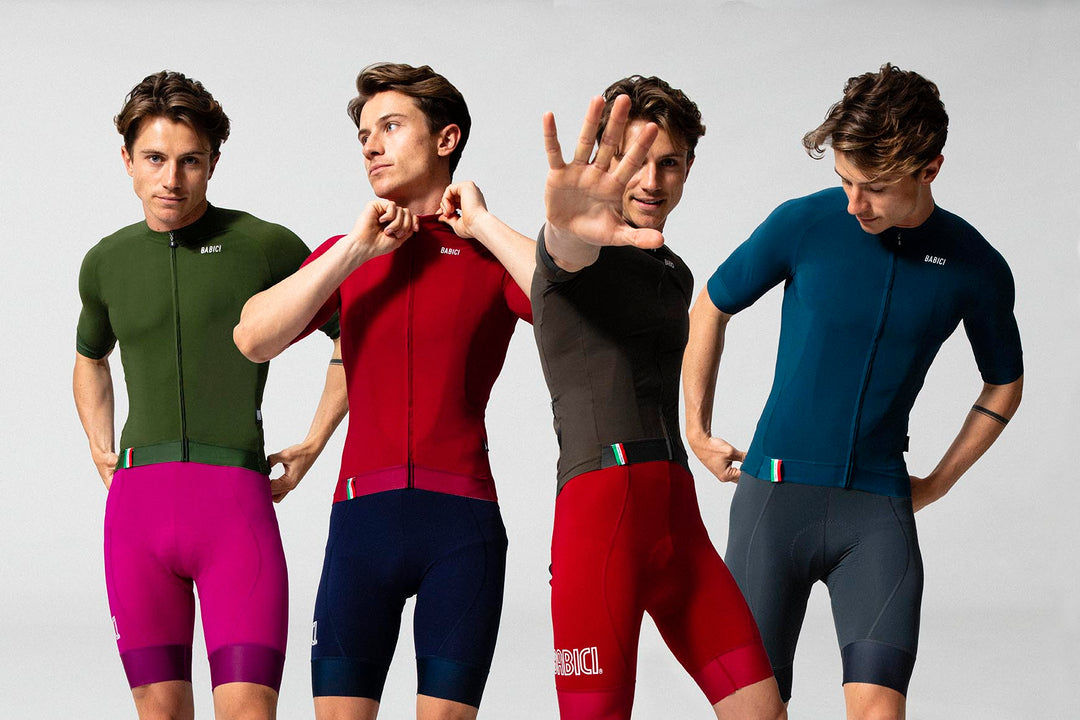 Posted on
---
Cycling is not only a great way to stay fit but also an exciting adventure that lets you explore the world around you. To enhance your cycling experience, having the right gear is essential. Babici, a renowned cycling apparel brand, understands the needs of cyclists and offers a range of Everyday Kits designed for comfort, performance, and style. In this blog post, we'll delve into the world of Babici Everyday Kits and explore why they are a must-have for avid cyclists.
Quality Craftsmanship: Babici is synonymous with quality craftsmanship, and their Everyday Kits are no exception. Each kit is carefully crafted using premium materials that offer durability, breathability, and moisture-wicking properties. The attention to detail is evident in the stitching, fit, and finish, ensuring that every piece of apparel meets the highest standards.
Comfort for Long Rides: One of the standout features of Babici Everyday Kits is their emphasis on comfort. The jerseys and shorts are designed with ergonomic cuts and strategically placed seams to minimize chafing and maximize freedom of movement. The use of technical fabrics provides excellent moisture management, keeping you cool and dry even during intense rides or long hours in the saddle.
Performance-Oriented Design: Babici understands that performance matters to cyclists, whether they're racing or simply enjoying a weekend ride. The Everyday Kits feature aerodynamic designs that reduce drag and enhance efficiency. The jerseys have a tailored fit that hugs the body without feeling restrictive, and the shorts incorporate advanced padding for optimal comfort and reduced muscle fatigue.
Attention to Detail: From vibrant colors to subtle patterns, Babici Everyday Kits are visually appealing without compromising functionality. The brand takes pride in creating kits that not only perform well but also make a fashion statement on the road. The jerseys often feature unique designs and innovative graphics that add a touch of individuality to your cycling wardrobe.
Versatility: While Babici Everyday Kits excel on the road, they are equally suitable for other cycling activities. Whether you're commuting to work, tackling a gravel trail, or embarking on a long-distance adventure, these kits offer the versatility to meet your needs. You can mix and match various pieces from the collection to create the perfect outfit for any cycling occasion.
Sustainability Commitment: Babici is committed to sustainability and ethical practices. Their Everyday Kits are made with eco-friendly materials and produced in factories that adhere to responsible manufacturing standards. By choosing Babici, you can ride with a clear conscience, knowing that you're supporting a brand that cares about the environment.
Babici Everyday Kits are a testament to the brand's dedication to providing cyclists with high-quality, comfortable, and stylish apparel. Whether you're a professional rider or a cycling enthusiast, investing in these kits will undoubtedly enhance your cycling experience. With their attention to detail, performance-oriented design, and commitment to sustainability, Babici continues to raise the bar in the world of cycling apparel. So, gear up with Babici and hit the road in style and comfort every day.
Information
Sign up to our mailing list
In the spirit of reconciliation Babici acknowledges the Traditional Custodians of country throughout Australia and their connections to land, sea and community. We pay our respect to their Elders past and present and extend that respect to all Aboriginal and Torres Strait Islander peoples today.